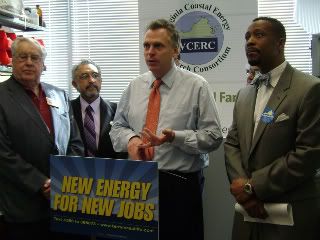 Terry McAuliffe emphasizes that Virginia is at a crossroads. We've got to create new jobs in this green economy. 118 billion dollars out of the 780 billion dollar stimulus package, is going toward alternative energy. He warns that is going to bypass us because we are not a mandatory state; we're not doing what we need to do.
He pointed at the professor in whose lab we stood and said "You ought to be funded with these new stimulus dollars, you could be the world leader…we ought to be the world leader. I talk about, and everybody laughs at me; they call me Governor Chicken-something because I love chicken waste. I do, I get excited about chicken waste. I'm sorry, there are 500,000 tons of it. We leech it into our watershed, we've ruined our oyster business in the Chesapeake, we've hurt our environment."
Standing in the Old Dominion University laboratory where leading edge research is being conducted with algae, Terry McAuliffe rolled out the first portion of his Business Plan for Virginia following on an earlier presentation in Richmond today. After listening to a presentation by the ODU faculty, McAuliffe beat a campaign drum resonating from the beginning of his travels, saying that "Virginia ought to be the leader on wind, on solar, on biomass, on bio-fuels: Virginia ought to be number one." From day one of his campaign, he has called for a mandatory renewable standard; demanded Virginia become a mandatory standard state.
"Why? Because I can't bring investment capital into the state of Virginia unless people think we are serious about alternative energy. We have 28 states that already have it. People go to those states...People around the country and the world will not invest in a state they don't think is serious on a long term alternative energy program and when you are a voluntary state, you don't meet that standard. That is why I have called for a mandatory renewable energy standard. And I've said that what I want is that 25% of the energy output by our utility companies by 2025 needs to come from alternative sources."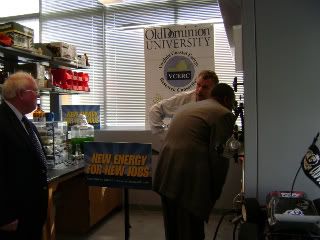 The business plan is available on his website. What you don't get there are his anecdotes. He told a story about touring a facility with a "big machine" that a gentleman built; a Virginia Tech professor by the name of Foster. It takes the chicken waste and converts it. The first byproduct is gas. Gas, that can be used to heat the hen houses; no need to buy that gas anymore. The second is oil; use it for the machine itself. The third: slow release fertilizer. It potentially saves half the farmer's fertilizer costs. That's a win-win, McAuliffe argues. It all goes in the machine, nothing comes out but a good byproduct of nitrogen and slow release fertilizer.
McAuliffe: Spectacular! Why are we not putting this all over Virginia? We have 898 poultry farms. Why are we not doing this?

Foster: Terry, I can't get a permit.

McAuliffe: Why can't you get a permit?

Foster: DEQ (Department of Environmental Quality) won't give me a permit.

McAuliffe: (West Virginia has now moved ahead of us on the technology. We are about to lose it to another state when we developed it.) Well, why won't they give you a permit?

Foster: Well, DEQ says I'm an incinerator.

McAuliffe: He doesn't emit anything into the atmosphere. How can he be an incinerator?

Foster: Terry I tell them that and they won't listen to me. I tell them I'm going to have to move my technology elsewhere.

McAuliffe: As Governor I find that unacceptable; that we can have another leading edge technology and we are going to lose it to another state. So I say, "Foster, hang on. Wait till this election's over and I promise you when I am elected Governor, I am going to drive my car up here and we're going to trailer hitch it up and we're driving this machine to the headquarters of DEQ and I am going to march you in there and I am going to get you that permit; I promise you, before I leave."
That's the kind of thing McAuliffe says we have to do. We've got to shake it up or else we are all going to be sitting here three years from today and our taxes will have been raised and our budget cut, and nothing will have happened. "I'm not into nothing happening. I want action, I want changes, I'm excited and I think we can do it."
Someone at the gathering yells out, "How about we harness your energy?" and the fired up group laughs aloud. None of them doubts he will do this.
Cross posted at VBDems.org - Blogging our way to Democratic wins in Virginia Beach!