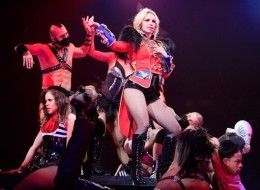 I'm really starting to love Eric Cantor. The guy is such a fountain of Republican idiocy, you just keep on looking for the next Eric Cantor story to break the headlines.
Last week, we watched with joy as the congenitally ill-informed Minority Whip was sent into stuttering incoherence when confronted with the hypocritical distance between his votes and rhetoric on the AIG tax retribution bill.
But this is much more fun. After Republicans spent weeks lambasting Democrats for taking on any issues not directly related to the current economic crisis comes news that, instead of focusing on Barack Obama's 2nd prime time news conference, Cantor spent the evening wooping it up at the Britney Spears concert.
There was more than one whip at last night's Britney Spears concert in Washington DC.

GOP aides confirmed to the Huffington Post that House Minority Whip Eric Cantor (R-Va.) attended the pop concert at the Verizon Center, where Britney appeared on stage brandishing a leather lash.
Keep up the good work, Eric. Wonkette has been kinda slow lately.
UPDATE: Lowell has Howard Dean lambasting Cantor's idiotic embrace of the term "fascism". I've changed my mind. I don't love Eric Cantor, he's proving himself to be a real douche bag.