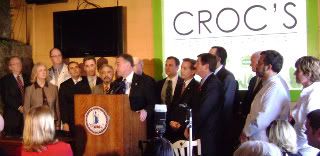 [Major Milestone for the Old Dominion - promoted to FP by Riley Murray]
Governor Kaine was joined today at Croc's Eco Bistro on 19th Street by health advocates, legislative patrons, and other stake holders as he signed legislation from the 2009 General Assembly session that bans smoking in restaurants throughout the Commonwealth effective 1 December. This was a big day for our entire Commonwealth and a proud moment for supporters including the Virginia Beach Hospitality Industry – the VBRA, VBHMA, VBCVB – and the Virginia Beach Mayor and City Council Members who all whole heartedly supported this initiative.
To celebrate this moment for the industry, attendees were encouraged to wear their favorite restaurant attire, logos, chef coats and hats to show their support. The day marks a milestone for industry workers' health and CLEAN INDOOR AIR! Governor Kaine made specific mention of Croc's Laura Wood Habr for her vigorous support of this legislation and of the effort by business owners and civic leaders, particularly in NOVA and Hampton Roads, to bring it to pass.
Cross posted at VBDems.org - Blogging our way to Democratic wins in Virginia Beach!